Chat with our team live!
Author: Andrew Matsen Date Posted:24 March 2015
---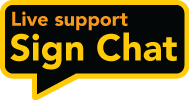 Blair Signs & Safety has just teamed with Zopim to increase the service level to our customers. You can now chat live with our team online by simply clicking on the Chat with us button on the site.
We can now help you with navigating the site and answer any questions you may have, all live in real time. The system also stores conversations to give us a better understanding of what our customers require. Customers can email the conversations to themselves, send a file eg. a photo, PDF etc.
The Zopim Live Chat system even works with Tablets and Web Enabled mobile phones. We will be live online 8:30am - 5.00pm Mondays - Fridays. We know you will enjoy using this system so give it a go today.